---
JOY TO THE WORLD
LISTEN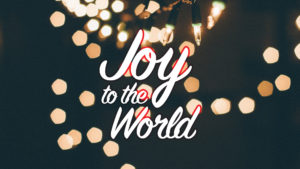 (Click play above to watch the message or
CLICK HERE to download the mp3)
---
No Message Handout This Week
---
WARM UP QUESTIONS:
What are some of your favorite Christmas traditions that you do every year?
SCRIPTURE STUDY: Luke 1:26 -45 and Luke 2:1-7
REFLECTION QUESTIONS:
If an angel were to appear to you today, tell you that God is with you and reveal God's plan for your life, how do you think you would respond?
In what area of your life do you need to believe with Mary that "nothing is impossible with God"? What keeps you from believing this?
In what ways is God calling you to bring Christ into the world around you? What are the risks or concerns associated with taking action on this call?
Rosemary quoted Pope Francis challenging us to 'be changed and converted taking one step forward each day to prepare for God's coming.'
    Are we personally prepared for Christ coming and what can we do to prepare our hearts for Christ who is coming?
Looking back at your notes from this week's Message, was there anything that particularly caught your attention, challenged or confused you?